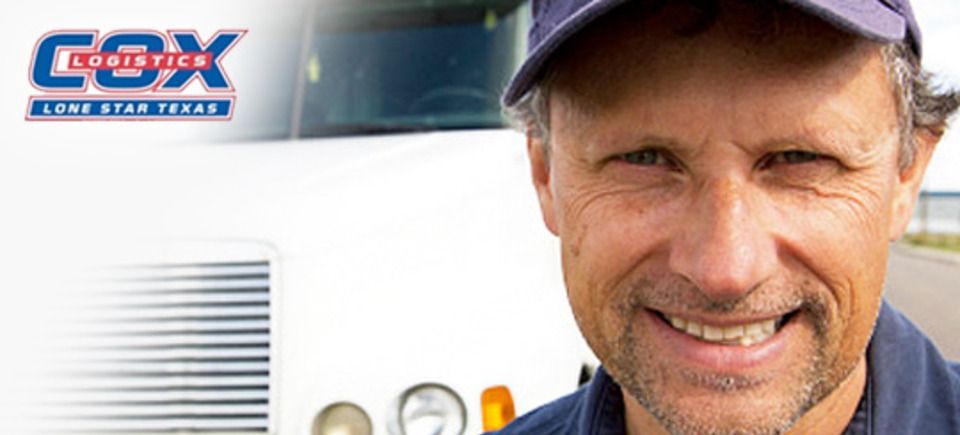 Join Our Team

Cox Logistics is proud to offer medical insurance to our drivers, at no cost to them.

We have immediate openings for professional drivers and owner operators. Just click on this Online Application link to submit your application. We are committed to finding talented drivers with the same dedication to safety, efficiency and customer service as our company's owners and managers.

Why should you work for us? See the Cox Logistics Advantage towards the bottom of the screen for some great reasons why YOU should work for us.

​​​​​​​Consideration of qualified applicants for any position is made without regard to the applicant's sex, race, color, national origin, marital status, age, religion or non-job related disability.
The Cox Logistics Advantage
• Earn $50,000 + in the next 12 months• Health Insurance - No Cost To You
• $3,000 sign-on bonus
• $1,500 referral bonus
• 401K with matching funds
• Aflac
• TelaDoc
• Maintenance Escrow
• Driver referral bonus
• Direct Deposit
• Reliable and late model equipment
• 24/7 maintenance assistance by a Cox employee
• 24/7 dispatch assistance by a Cox employee
Driver Requirements
All drivers for Cox Logistics, LLC. are required to...
• Have a current, valid CDL
• Moving violations: Only 3 over last 3 years
• Minimum of one year of experience operating tractor/trailer equipment is preferred.
• Must be at least 21 years old
• Valid DOT Health Card
• DWI convictions:  Must be 7 years ago
• 3-day orientation in Lone Star, TX
Owner Operator Requirements and Lease Details
Working as an Owner Operator for Cox Logistics is the perfect way to build a long and great career. Truck and Trailer requirements are as follows.

• Copy of Title
• Current 2290-Highway Use Tax Form
• Power of Attorney-if not own truck
• Proof of insurance
• Empty weight ticket
• Current TX DOT Inspection
• Copy of Registration Receipt
• Copy of Cab Card-if not own authority